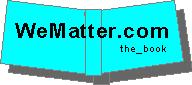 WeMatter.com the_book > Solution > Tools
WeMatter.com, the_book
Tools
There are a number of WEB structures/tools that can be used for developing the WeMatter.com political hub site.
HTML -- Much of the WEB site is pure HTML, e.g a simple/standard WEB site. This is best used by an author, or a hierical set of authors for constructing ordered information sets. If properly designed, the site should allow sub areas to be designed by more than one author and to be formatted using templates and tools in common.
Mailing lists, Groups, Blogs -- Information can be communicated by E-mail lists that are used to send information to people who are interested in a topic when someone authorized submits their information to the list.
E-mail Address Group -- The simplest E-mail list is just a list of recepitents who anyone who owns an E-mail program wants to send their information to any user can generally build such a list within their E-mail program and then send an E-letter to the group. If they send it Bcc, then there is no publicating of the recipitants. The problems with a simple E-mail address groupare

There is no easy way to maintain the list of the recipiants. -- The list is manually maintained by the sender and so the sender must manually add and delete users.
There is no generally visable record of what was send -- If a member of the list wants to be able to see what was sent a while ago, then the information mush be maintained on their local computers
---
Yahoo type Group (List server) -- The "next" way to communicate is via a list server type group. This is a set of automatic scripts that allows the computer to manager the E-mail list, the record of what information was distributed, and controls the distribution of the information. Yahoo is managing a simple version of these list server E-mail groups, but any site can include the software to do this management. The software provides the following funcions.
Though the moderator/owner of the list can control who can post messages and who can subscribe and unsubscribe.
---
Conferencing on the Web -- A comprehensive guide to software that powers discussions on the internet
Web Conferencing - Video Conferencing - Instant Messaging - Forums & Message Boards - Web Presentations - Groupware - Social Software for Online Collaboration - Virtual Communities - Virtual Teams - Intranets - E-learning - Knowledge Management

Capitol Advantage is the nation's premier provider of grassroots solutions for corporations, nonprofit groups, associations, educational institutions, and other organizations.
---
Home, Site-map, People, Links, The-book, Table of Contents, Contact-us,
April 25, 2004 18:50